COMMERCIAL cattle bids were up 16 per cent this week at AuctionsPlus to close at 16,517.
Consistent price trends have been hard to find in the young cattle market, with weekly moves likely to continue for the rest of the year.
The overall clearing rate reached 74pc at the end of the sale this week, with the average value on the stock down 12% to $243/head.
With the extent of the flooding across large areas of eastern Australia, weekly volatility in supply and subsequent price movements are likely to be a feature of the market for several months.
With the current average falling to early 2023, producers are poised to take advantage of opportunities to move inventory and generate cash flow – research into the location of desired lines and the suitability of access routes increases significantly this week.
An increased supply of 200-280 kg steers in 1,818 head led to an overall decline in the average category price for the week, down $205/head to $1,729 last week.
Despite the larger offer, the clearance rate rose to 75pc from 49pc last week. A run of 152 Brahman cross steers from Richmond, North Queensland, aged 12-15 months, averaging 247kg, made $1300.
The 280-330 kg average fell $253/head to $2,091 last week. Contributing to the decline was a more than doubling of supply, with 2,129 head offered for sale to 73pc of clearances.
In contrast, steers weighing 330-400kg were able to finish the week higher at $2255/head – with a 77pc clearance for 1123 head on offer. Uralla, NSW, 19 Angus averaged 370kg at 10-12 months returned $2430 – sold to $400 off their stock.
Feeder numbers were up 125 percent for the week to 1,696 head, ending with a 62 percent clearance. After last week's $258 jump, prices averaged $38 lower this week to $2,348/head. A set of 14 Angus yearlings averaging 456kg at 16-18 months from Launceston, Tasmania returned $2760 and will go to Smithton, Tasmania.
113 Santas from the North at 20-26 months averaging 480kg Barcaldine, Queensland, $2370 return – to Dalby, Queensland.
There were some big price changes again this week among young heifer lines, as quality and location played a role in buyers' intentions. Heifers weighing 200-280kg averaged $224 higher this week, with 1,252 head averaging $1,622 and a clearance of 82pc.
A line of 30 Angus heifers averaging 279kg at 12-15 months from Crow's Nest, Southern Queensland returned $2220/head – selling $600 above reserve to a buyer at Milmerran, Queensland.
Heifers 280-330 kg averaged $397 higher to $2,133/head after a significant decline last week. Contributing to the breakthrough was a total of three even lines of 150 head Angus future breeding heifers from Goolma, NSW. Heifers aged 14-16 months and averaging 300kg returned $2460/head to a buyer in Dubbo, NSW – $400 above reserve.
A 22% jump in deliveries of 330-400kg heifers to 1,583 ends had little impact on overall returns for the category – down $23 last week to average $2,182/head.
75 13-14 month old Angus heifers averaging 351kg from Camperdown, Victoria returned $2640-$440 from their stock. The heifers will go to a buyer in Macorna, Victoria.
A thin supply of 400kg+ heifers drove the average price down $272 for the week, erasing all of last week's $86 gain. Averaging $2314/head, 405 head sold to a 70pc clearance, with 19 heifers averaging 416kg at 15-16 months from Henty, NSW Riverina returning $2530.
Breeding cattle
The livestock section of the market continues to be very selective on both sides of the transaction. PTIC heifers made up most of the market, with 1985 head on offer hitting a clearance of 53pc. After last week's massive price increase of $467, the average price fell by $78 to $2,821. 46 PTIC Angus heifers from Walcha, NSW, 19-26 months average 491kg, returned $4000. The heifers have joined highly marbled Wagyu bulls and will head to Gracemere, Queensland.
PTIC cow numbers halved last week, with 654 head selling to a 79pc clearance to average $3105. Glen Innes, NSW, 18 four-year-old Angus x Hereford cows 656kg returned $3380 to a buyer in Molong, NSW.
15 combined Angus cows averaging 646kg with CAF from Padthaway, South Australia returned $3850 and will travel interstate to Merino, Victoria.
Out of Adelong, NSW, two pairs of 52 two-year-old Angus cows at 526kg mated to Moogenilla Angus bulls returned $4640.
Prices as of Friday, November 4 at 2:00 p.m.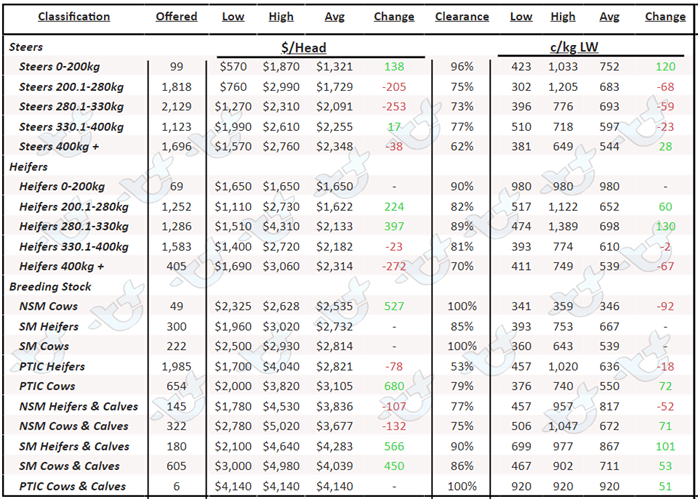 Source: AuctionsPlus