The Colorado State University community is filled with a variety of clubs, activities, and groups of people.
The Collar Scholars Club at CSU is a campus extension of the philanthropic organization canine companions, a nonprofit group working nationwide to provide free, professionally trained service dogs to people with disabilities who apply.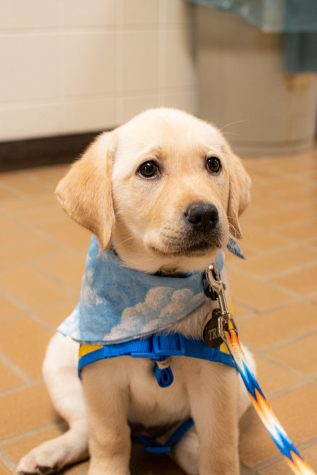 Collar Scholars is a pup's first introduction to his future in the service. They spend the first 18 months of their lives with a designated puppy raiser who helps them socialize, teaches them about 30 tips and prepares them for dog vacations at Canine Companions.
While not all Canine Companions puppy raiser groups are located on a college campus, Emily Arnow, president of CSU Collar Scholars, said these dogs are one of the best places to learn.
"You can see skateboards on the five-minute walk to class; you can see huge swellings; you can see squirrels (and) other dogs," Arnow said. "It's a really phenomenal environment that you don't get many other places with so many support systems in one place."
You might wonder if puppies are raised as all work and no play, but Arnow says that couldn't be further from the truth.
"We teach them the difference between working and not working," Arnow said. "We teach them appropriate play — so we don't want them stealing socks or licking the kitchen floor, which is a work in progress for us," she laughed, pointing to her Delta VI puppy, a sleek black Labrador and golden retriever. Mix it up by wearing a vest that says "future service dog".
Dogs from Collar Scholars are either Labradors, golden retrievers, or a mix of the two.
They go through extensive vetting to make sure they have the right temperament for the job and are then placed in the hands of puppy raisers.
"I think my favorite part is knowing that no matter where that journey takes them, it's going to change someone's life for the better." –Jessica Lalone, vice president of Collar Scholars
After each dog graduates and any further professional training, they are matched to a service dog applicant and spend the next eight years assisting their owner in everyday life. When they are matched to their future owners, the decision is based on the applicant's needs and what the dogs can provide.
After that, they retire and spend the rest of their lives as playful pets trained as medical equipment.
While it can be difficult to return dogs to Dog Companions for finishing and placement, Collar Scientists understand the importance of the work they do and how much the dogs will help their future owners. They even present the dog they raised on vacation.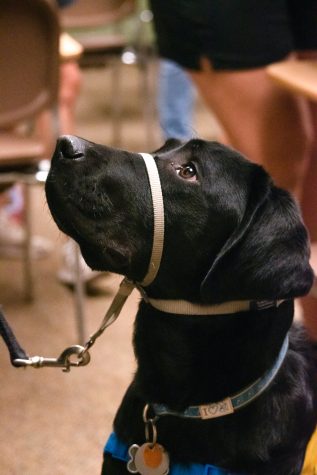 "I think my favorite part is knowing that no matter where that journey takes them, it's going to change someone's life for the better," said Jessica Lalone, the club's vice president, who got involved after seeing someone on campus, training a puppy and finding the club's online resource page.
There are three types of positions in the Collar Scholars club: puppy raisers who are assigned to a puppy and live and work with them for that 18 months; Puppy sitters who work as needed to ensure puppies have a variety of experiences and stimuli when breeders are unavailable (for example, if the puppy is not yet well trained to attend all of the groomer's classes without causing potential disruption); and general members.
At club meetings, all four currently assigned dogs gather in a room and complete tasks and desensitization techniques with the group. This comes in the form of several games where group members "spy" on a part of the dog and touch it (like its ears or paws) to see if it reacts and to a human-made obstacle. courses to train them to maneuver in crowded places.
The dogs seemed to be having fun, and the encounters allowed each group member who had no consistent contact with the dogs to practice their skills for the first time – watching them complete cue after cue while walking closely to the left of their handlers and with plenty of accompaniment. positive reinforcement in the form of treatment, of course.
It is the next general meeting of the club October 4th at 6:30pm in the Behavioral Sciences Building on campus, and they are always looking for new members who want to get involved in making a difference in providing accessibility and greater independence for people with disabilities.
Contact Bella Eckburg at life@collegian.com or on Twitter @yaycolor.