Fall is the season for finding species outside of their normal range. Many birds are driven here by northwesterly winds, or perhaps their navigation is flawed, or they just have wings and use them!
Without further ado, here are some unexpected images from this week.
Painted bunts – Lanny McDowell
Some birds appeared at Gay Head Cliffs. A young painted bunting was seen on September 24; Richard Coose saw it foraging in the roadside bushes for about a minute, which allowed him to closely observe its rather dark greenish plumage. The book Vineyard Birds II by Susan Whiting and Barbara Pesch classifies it as a rare vagrant, with all three sightings prior to 2005 occurring in the spring.
On September 25, John Banks emailed me about a western kingbird at Waterview Farms in Oak Bluffs. He looked at her as she sat on the cherry tree outside the window of her house.
Ironically, Wendy Culbert and I were a few houses apart. Our first visit yielded nothing, but on my second visit an hour later, I saw a grayish bird with a yellow underbelly flying through the bushes near the house. It was probably a king bird. A cat and a buzzard also flew from the same thicket, and there were about five pine cubs in the nearby pine trees.
king of the west – Lanny McDowell
On September 26, Strickland Wheelock and his MassAudubon trip found a western kingbird in Aquinnah. This is most likely a second individual, but it is possible that this bird observed later is the same bird. The distance from Oak Bluffs to Aquinnah is short compared to the distance it takes to get here along the ranching range west of the north-south line from Texas to the Dakotas. One western king is good, but two is better!
Allan Keith found a European snapper at Norton Point on September 20th. According to Allan's notes, this is only the second time he has seen this European subspecies here. It is distinguished from the subspecies of the North American capercaillie by having a white triangle extending from the base of the tail to the back. The North American subspecies is regularly seen here. In fact, Norton Point has had one or two of them for most of September.
An immature common gallinule was seen at the Oak Bluffs pump station on September 24. It was first reported by Catherine Oskar and later discovered by Luann Johnson and Christine Kaczmarczyk. Although this species is not seen every year, Luanne recalls that there was also an immature last fall.
Strickland Wheelock's visit to MassAudubon was a huge success on the morning of September 26 at Gay Head Cliffs. Winds were out of the southwest at 15 to 20 mph with gusts as high as 30 mph. In addition to the aforementioned western kingfisher, they found seabirds among the strong swells. Although the shearwater show was down this summer, they were able to find three large and two Corin's shearwaters, a parasitic jaeger and six northern gannets.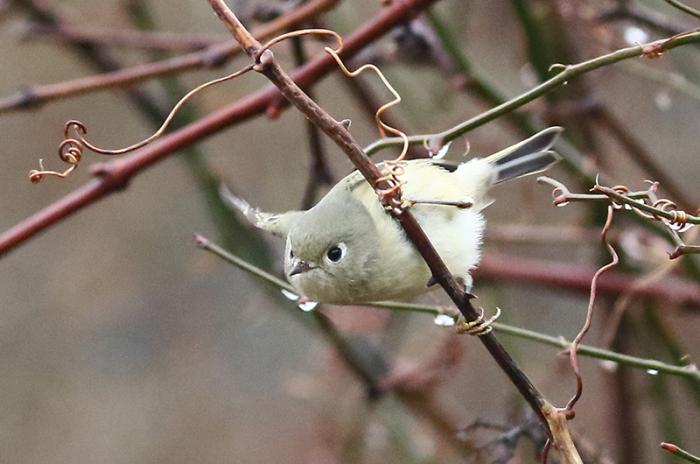 Ruby Crowned Kingdom — Lanny McDowell
That's a good show in itself, but their highlights were even better: six Wilson's storm lampreys, two black guillemots and a common murre. These last three species are more likely to be seen in good seas around the continental slope or in the upper Gulf of Maine.
And all of these unusual species occurred during the first week of the peak migration south!
On September 16, Allan Keith saw three broad-winged hawks at Squibnocket Point before they flew off and disappeared. Then he saw it twice more. Its strongly striped black and white tail was easily seen in flight.
We are finding this species more and more often and wonder when it will finally be confirmed as a breeding species on the island. It nests almost anywhere east of the Mississippi River.
Indigo Bunting – Lanny McDowell
At Dogfish Bar on September 25, Margaret Curtin saw an indigo bunting that nests here several years and is a common spring and fall transient. Richard Couse also saw one along Oxcart Road in Aquinnah the same day. Also on September 25, they both saw the first black-eyed juncos of the fall.
The Lincoln sparrow is a species that is only observed during southward migration. It is summer in Canada and is found in small numbers almost every autumn. They are described as small brown affairs wandering about in perfect thickets and thickets. Two were seen by Richard Cuse and Bob Schrieber on a trip to Gay Head Cliffs on Sept. 24 at the MV Bird Club.
Warblers, vireos and other insectivorous species are also on the move. Beth Biros starts this list with a northern parula in her water bath – a good way to attract birds – on September 20. Katherine Oscar visited Wasque on September 22 and found pine woodpeckers, palm wrens and ruby-crowned kinglets.
At Squibnocket, Allan Keith found willow flycatchers at Squibnocket on 23 September, ruby-crowned kinglets red-eyed and blue-headed vireos and the following warblers: black-and-white, yellow-throated, blackpoll, redstart, magnolia, northern parula, black-throated blue and bay breasted. That same day, Nancy Nordin saw a golden-crowned kinglet, blue-headed vireo, blackpoll, yellow and yellow-crested warblers near West Tisbury School. An MV Bird Club trip to Gay Head Cliffs on 24th September produced the following warblers: Cape May, Black-throated Green, Northern Parula, Yellow-throated, Yellow-crested and Persimmon. They also observed eastern phoebe, ruby-crowned kinglet, red-breasted muskrat, rose-breasted grosbeak, dickcissel, red-eyed vireo and brown thrasher. To close out the day, Luanne Johnson saw northern subs and American red starts at the Oak Bluffs pump station.
European whim – Lanny McDowell
September 25 was a busy day. At Polly Hill Arboretum, Bridget Dunnigan and Sea Williams saw eastern wood pewees, Baltimore orioles and palm warblers. At Dogfish Bar, Margaret Curtin found red-eyed vireo, ruby-crowned kinglets, red-breasted muskrat, palm warbler and black-throated green and palm warbler.
Elsewhere in Aquinnah, Susan Whiting observed red-eyed vireo, red-breasted plover, house warbler, palm warbler, and black-throated green warbler. At Donaldbin Close, Charles Morano found a ruby-crowned kinglet, an American redstart and a pine woodpecker. Marilyn Tillinghast was near the Chappaquiddick Beach Club where she found a red-breasted vole, a magnolia warbler and a yellow curled warbler.
And finally, Strickland Wheelock's MassAudubon trip to Squibnocket Beach produced a white-eyed vireo on September 26.
Please note that this column does not contain any references to sightings of shorebirds, waterfowl or hawks. Next week!
Please send your observations to birds@mvgazette.com.
More bird pictures
Robert Culbert is an environmental consultant for Nature Watch LLC, based in Vineyard Haven.